About Our Classes
At this time we are offering 5 and 10 class packages for group Reformer and Mat classes.


For Pilates Beginners:
Due to the complexity of the Pilates principles, and to ensure safety, optimal results, and maintaining class flow, we require you to take at least 1 Private Pilates session before taking a group Reformer class. We have the ideal package called the Pilates Sampler, which is 1 Private Class, 1 Mat Class and 1 Reformer Class for $125.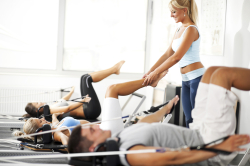 Group Reformer
The Reformer is a machine that helps you get a full body workout, with emphasis on core control, spinal stability, spinal mobility, flexibility, balance, and postural alignment. Our class size is very small, what most studios call semi-private, as we only have 6 people per class for optimal results and safety.

If you are looking for a full body workout, this is the class for you.
Group Mat

This is an amazing abdominal workout! It's a great addition to your Reformer classes! And this class is ideal if you are looking for a routine to keep your back pain away!

Without the assistance of a machine, such as the Reformer, your abs have to work hard to maintain spinal stability as you perform a variety of static and dynamic exercises. In this class, you will also strengthen your back muscles and gluteals and perform exercises to improve spinal mobility, which is another key component to eliminating back pain.
Private Pilates Session

If you want to get the benefit of working one-on-one with a Personal Trainer but want to avoid pain and injury, then a private appointment with one of our Pilates Instructors would be ideal. The Private Pilates session is also the only way to get to workout on the various apparatus in our full studio. Enjoy the numerous benefits you get through the numerous exercises on the Reformer with Tower, Combo Chair, Ladder Barrel, Spine Corrector, and Mat. Duets and Trios also available.

NOTE: When working with one of our Physical Therapists, you will also have use of the full studio (and may even be covered by your health insurance).